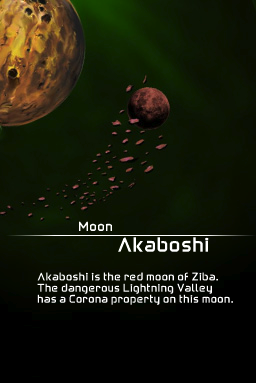 Akaboshi is Ziba's red moon. Krawl that can be found here are well under control with power. You come to Akaboshi to look for the disturbance disturbing the moons. The disturbance happens to be Skiva, Shanka, and Skessa. It is stated to possess a powerful north pole magnetic field.
Spectrobes: Beyond the Portals
Edit
In Spectrobes: Beyond the Portals, Akaboshi is the Red moon of Ziba in the Nanairo System, this moon has a Corona property and you come here to find Gronos, one of the High Krawl. The majority of the Krawl are of the Corona property. There is no special enviroment when mining, but Corona property minerals are more common and stronger than the other minerals on the moon. There is a portal at the end of the road that leads to a big Krawl Vortex and one smaller Vortex. Ordinarily Gronos is standing there and he tells Rallen about his plan to make a portal. The Areas are:
Valley Depths, Akaboshi
Corona Zone L. Valley North
Corona Zone L. Valley South
Landing Point, Akaboshi
Ad blocker interference detected!
Wikia is a free-to-use site that makes money from advertising. We have a modified experience for viewers using ad blockers

Wikia is not accessible if you've made further modifications. Remove the custom ad blocker rule(s) and the page will load as expected.