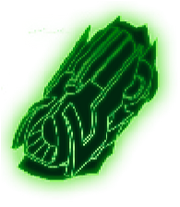 Blasters are a type of weapon in the Spectrobes franchise that allow ranged attacks.
Appearances
Edit
SpectrobesEdit
In Spectrobes, Blasters are one of the types of weapons used by Rallen in battle. Blasters are used by pressing the Y button, and some have homing, multi-shot or explosive projectiles. They deal a specific amount of damage to any target they hit, ignoring the target's defense value. Firing it depletes three units, or three quaters, of the command gauge.
Spectrobes: Beyond the PortalsEdit
In Spectrobes: Beyond the Portals, Blasters are now used outside of battle to attack Krawl Dust. Like the other weapons from the original game, there are also a wide variety of blasters available. Like in the previous game, blasters are used by pressing Y. Blasters can either fire a single homing blast, fire multiple blasts, or fire a single exploding blast.
Spectrobes: OriginsEdit
In Spectrobes: Origins, blasters (some weapons in this category also being referred to as cannons or zappers), are one of the five different types of weapons. Like with the previous installments, blasters are used for ranged combat. They have the lowest base stat increase, but they can fire multiple shots, spreading shots, lasers, and explosive shots.
List of Blasters
Edit
SpectrobesEdit
Spectrobes: Beyond the PortalsEdit
Basic Blaster
Ray Blaster
Photon Blaster
Hyper Blaster
Rupture Blaster
Stone Blaster
Super Blaster
Gaia Blaster
5-way Blaster
Cosmo Blaster
Spectrobes: OriginsEdit
Ad blocker interference detected!
Wikia is a free-to-use site that makes money from advertising. We have a modified experience for viewers using ad blockers

Wikia is not accessible if you've made further modifications. Remove the custom ad blocker rule(s) and the page will load as expected.