Buto Sword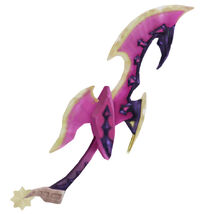 Type
Property
Stats
ATK +11
Attack
Swift 4-hit combo
Attack Effect
Knock back (hit 4)
Status Effect
N/A
Extra Effect
N/A
Spectrobe

Butobasu
The Buto Sword is a Legendary Weapon which shares the look of the Earth Property Spectrobe Butobasu. The weapon is irregularly-shaped, from its wavy and notched blade down to the curved handle. The spine and hilt of the sword are purple, the blade is pink, and the spur-like pommel is white.
The axe-like Buto Sword is a mid-range weapon. Its parallel twin-blades give it an ATK stat of +11, and is only able to hit 4 times in succession. It's very useful against flying enemies.
The Buto Sword is protected by an Earth Property Barrier at the Excavation Site.
Ad blocker interference detected!
Wikia is a free-to-use site that makes money from advertising. We have a modified experience for viewers using ad blockers

Wikia is not accessible if you've made further modifications. Remove the custom ad blocker rule(s) and the page will load as expected.