Cosmo Blaster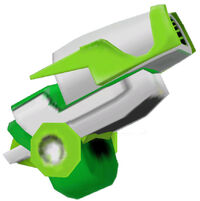 Type
Property
None

Stats
ATK +5
Attack
3-blast shot
Attack Effect
N/A
Status Effect
N/A
Extra Effect
N/A
The Cosmo Blaster is the default blaster obtained in Spectrobes: Origins.
Appearance
Edit
Similar to the blasters in the previous games, the Cosmo Blaster is white and green colored.
The Cosmo Blaster increases base ATK by 5. The blaster is capable of a three-blast shot, and has no extra effects.
Ad blocker interference detected!
Wikia is a free-to-use site that makes money from advertising. We have a modified experience for viewers using ad blockers

Wikia is not accessible if you've made further modifications. Remove the custom ad blocker rule(s) and the page will load as expected.