Drill Lance S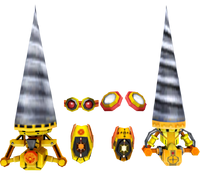 Type
Property
None

Stats
ATK +22
Attack
Single thrust
Attack Effect
N/A
Status Effect
N/A
Extra Effect
Break guard
The Drill Lance S is one of the "S" weapons in Spectrobes: Origins, which are only obtained through Card Input.
Appearance
Edit
The Drill Lance S, as the name implies, resembles a large drill. Although the weapon differs between the user, both versions appear near-identical to each other. Like other "S" weapons, it adds an accessory to the character, in this case a pair of goggles on their head.
The Drill Lance increases ATK by 22. It attacks with a single thrust that can break through an enemy's guard.
Ad blocker interference detected!
Wikia is a free-to-use site that makes money from advertising. We have a modified experience for viewers using ad blockers

Wikia is not accessible if you've made further modifications. Remove the custom ad blocker rule(s) and the page will load as expected.