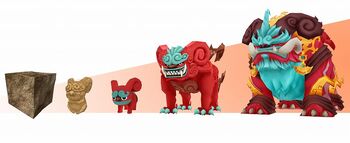 Evolution (進化 - In Japanese) is a term given to the process of transforming a Spectrobe through its different forms, in the order Child, Adult and Evolved. Evolution is present in all games in the series thus far and can be performed by all all non-Ultimate Spectrobes. It is not to be confused with the process of awakening, which reanimates Spectrobes from their dormant Fossil form as Child forms.
The purpose of evolving a Spectrobe is to increase its stats, change attack patterns permanently, as well as obtain a new entry for the Database. Evolution cannot be reversed, but it is optional.
Mechanics
Edit
As the game progresses, the stats of a Spectrobe will increase via two ways; either by gaining experience from fighting other enemies or obtaining Minergy from eating minerals excavated from the ground. Eventually, the requirements for evolution will be met, and the player can choose to evolve it in an Incubator. This greatly increases the ATK and DEF values of a Spectrobe, but also permanently changes its form, size and attacks. EXP values and requirements in both Spectrobes: Beyond the Portals and Spectrobes: Origins will not increase, however.
SpectrobesEdit
The following is an evolution guide for the first game, Spectrobes. In this game, evolution can only take place if a Spectrobe has reached a certain level or stat value, and has spent a set amount of time in the Incubator, with the only exception being some Child Spectrobes (which only need to fulfill the time requirement).
Spectrobes: Beyond the PortalsEdit
In Spectrobes: Beyond the Portals, the process to evolve Spectrobes has been altered; rather than waiting a certain amount of time or reaching a certain stat to evolve a Spectrobe, other requirements have been put into place for evolution to occur. To evolve a Child form to an Adult form simply requires feeding the Child a certain number of minerals (the type of mineral does not matter). To evolve an Adult form into its Evolved form, in addition to feeding it a certain number of minerals the Spectrobe must also fight a given number of battles and be at a given level. When the Spectrobe is ready to evolve, it will start to sparkle, and the player must press a button on the incubator HUD in order to evolve it.
The only method of bypassing these requirements is to feed a Spectrobe one of three special minerals (which can only be obtained via Card Input), which instantly allows the Spectrobe to meet one of its three evolutionary requirements.
The detailed effects on minerals and their affinity with certain elements can be read here.
Spectrobes: OriginsEdit
The requirements for evolution in Spectrobes: Origins have been greatly simplified; once a Spectrobe reaches a certain level, it only needs to be fed an Evolve Mineral for evolution to occur. The levels are:
Child → Adult: LV 5
Adult → Evolved: LV 30