Properties are the elements of both Spectrobes and Krawl. These properties can help or hinder a battle. In Spectrobes and Spectrobes: Beyond the Portals there are only three properties: Corona, Aurora and Flash. In Spectrobes: Origins however, these properties are replaced with five different properties: Fire, Water, Earth, Plant and Sky. Every Spectrobe has a property, but most Krawl do as well. Each property is strong against one, but weak against another.
Strengths and Weaknesses
Edit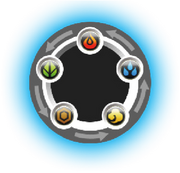 Corona is strong against Aurora, but is weak against Flash.
Aurora is strong against Flash, but is weak against Corona.
Flash is strong against Corona, but is weak against Aurora.
Fire is strong against Plant, but is weak against Water.
Water is strong against Fire, but is weak against Sky.
Earth is strong against Sky but is weak against Plant.
Plant is strong against Earth, but is weak against Fire.
Sky is strong against Water, but is weak against Earth.
Ad blocker interference detected!
Wikia is a free-to-use site that makes money from advertising. We have a modified experience for viewers using ad blockers

Wikia is not accessible if you've made further modifications. Remove the custom ad blocker rule(s) and the page will load as expected.