This article is a Stub and is not complete. You can help Spectrobes Wiki by expanding it.
This article is about the novel. For the game with the same name, see here.
Spectrobes: Origins (book)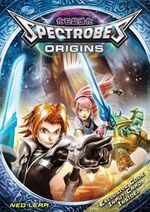 ISBN
Author
Ned Lerr
Publisher
Disney Press
Spectrobes: Origins is the third novel in the Spectrobes book series written by Ned Lerr. The book was published by Disney Press on August 18, 2009. The story is based upon the game after which the novel is named.
Characters
Edit
Ad blocker interference detected!
Wikia is a free-to-use site that makes money from advertising. We have a modified experience for viewers using ad blockers

Wikia is not accessible if you've made further modifications. Remove the custom ad blocker rule(s) and the page will load as expected.