Spika Axe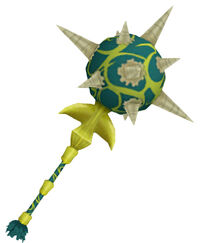 Type
Property
Stats
ATK +28
Attack
Triple swing
Attack Effect
Knock down (hit 1-3)
Status Effect
N/A
Extra Effect
Break guard
Spectrobe

Spikanor
The Spika Axe is a Plant-property Legendary Weapon designed to look like Spikanor. It resembles a green mace with yellow grips and a number of long spikes on the head.
The Spika Axe improves ATK by an impressive 28 points. Furthermore, it can be swung three times in succession.
The axe is found in the Sunny Grassland, behind a Plant Property Barrier.
Ad blocker interference detected!
Wikia is a free-to-use site that makes money from advertising. We have a modified experience for viewers using ad blockers

Wikia is not accessible if you've made further modifications. Remove the custom ad blocker rule(s) and the page will load as expected.