Torga Lance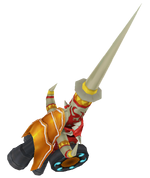 Type
Property
Stats
ATK +17
Attack
Double thrust
Attack Effect
Launch (hit 2)
Status Effect
N/A
Extra Effect
N/A
The Torga Lance is a Fire Property Legendary Weapon in Spectrobes: Origins. It increases the player's ATK by 17 points and launches the enemy on the second hit. The weapon is fashioned to look like Torgallup
This weapon is found at the northwest part of the Tree of Life on the planet Doldogo. It can only be accessed via Pegatinum as the only way to get to its Stone Marker is through a Light Bridge.
Ad blocker interference detected!
Wikia is a free-to-use site that makes money from advertising. We have a modified experience for viewers using ad blockers

Wikia is not accessible if you've made further modifications. Remove the custom ad blocker rule(s) and the page will load as expected.