Tote Glove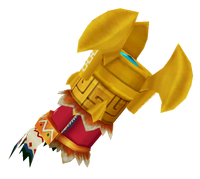 Type
Property
Stats
ATK +18
Attack
Jumping uppercut
Attack Effect
Launch
Status Effect
N/A
Extra Effect
N/A

The Tote Glove is a Legendary Weapon formed after Totegarda. This weapon is present in Spectrobes: Origins.
In the area 'Tower 2F' on Slayso, the player will find a Stone Marker in the corner of the room, containing the glove.
Ad blocker interference detected!
Wikia is a free-to-use site that makes money from advertising. We have a modified experience for viewers using ad blockers

Wikia is not accessible if you've made further modifications. Remove the custom ad blocker rule(s) and the page will load as expected.