Totsu Glove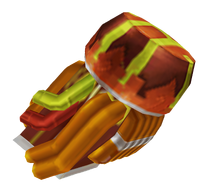 Type
Property
Stats
ATK +15
Attack
Downward strike
Attack Effect
N/A
Status Effect
Burn
Extra Effect
N/A
The Totsu Glove is a Fire Property Legendary Weapon in Spectrobes: Origins. It is fashioned after Totsuzen.
It can be found in High Meadow on the planet Doldogo. The player must use Pegatinum to reach the islet in the centre of the lake via Light Bridge to access this weapon.
Ad blocker interference detected!
Wikia is a free-to-use site that makes money from advertising. We have a modified experience for viewers using ad blockers

Wikia is not accessible if you've made further modifications. Remove the custom ad blocker rule(s) and the page will load as expected.