Trunkos is the 3rd boss of Spectrobes. He appears in Tabletop Mountains, and has no helpers. His property is Corona , how else can he survive in that climate? He attacks by spinning around the arena and whipping about with his tentacles.  He can also leave lava puddles in the ground by smashing the ground with his tentacles.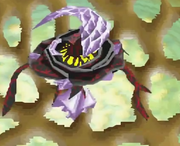 The best way to defeat him is to use ranged spectrobes like Vilanox and/or Dongiga, as well as Spectrobes with powerful short-ranged attacks, such as Bartolosa, as Trunkos pauses for long periods of time after his spin attack.
Ad blocker interference detected!
Wikia is a free-to-use site that makes money from advertising. We have a modified experience for viewers using ad blockers

Wikia is not accessible if you've made further modifications. Remove the custom ad blocker rule(s) and the page will load as expected.