Uka Glove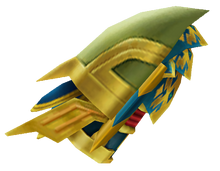 Type
Property
Stats
ATK +15
Attack
Uppercut
Attack Effect
Launch (hit 1)
Status Effect
N/A
Extra Effect
Break guard
Spectrobe
The Uka Glove is a Legendary Weapon in Spectrobes: Origins.
Description
Edit
The Uka Glove takes its appearance from Ukazeer. The front of the glove is green, while the rest of the glove is covered in gold with the occasional blue stripe. It adds 15 ATK to the player's base stats and is designed to deliver punches as uppercuts, sending the target flying. It is important to note that every attack of the Uka Glove within a combo will cause the Launch effect, not just the first one.
The Uka Glove is guarded by a Water Property Barrier in the Icicle Cavern.
Ad blocker interference detected!
Wikia is a free-to-use site that makes money from advertising. We have a modified experience for viewers using ad blockers

Wikia is not accessible if you've made further modifications. Remove the custom ad blocker rule(s) and the page will load as expected.