Zaza Sword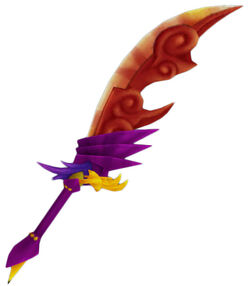 Type
Property
Stats
ATK +12
Attack
Swift 4-hit combo
Attack Effect
Knock back (hit 4)
Status Effect
Burn
Extra Effect
N/A
The Zaza Sword is a Legendary Weapon representing Zazanero. Its hilt and spiked guard are purple, with yellow decorations. The blade is curved and looks like a flame.
The Zaza Sword grants its user a +12 ATK boost. It can hit up to 4 times in a row, and has the ability to burn enemies.
The Zaza Sword is found on Wyterra, behind a Fire Property Barrier in Dawn Bridge.
Ad blocker interference detected!
Wikia is a free-to-use site that makes money from advertising. We have a modified experience for viewers using ad blockers

Wikia is not accessible if you've made further modifications. Remove the custom ad blocker rule(s) and the page will load as expected.